Money Worries See Demise of Family Holidays
Research has revealed that in the current climate, over a fifth of families in the UK have forgone a holiday in order to fund everyday necessities.
The Kleeneze research revealed that those in Northern Ireland were most likely to have forgone a holiday with a third (33%) indicating they had – next it was those in the North West (25%) and those in the East Midlands (24%).
Over half of families in the survey who had missed out on holidays said it had been difficult and caused disappointment and one in ten said it had led to family arguments. Perhaps more surprisingly, almost one in five admitted to having to pay for other treats to make up for it, potentially leading to a false economy in part.
Those who hadn't cancelled their holidays have found alternative solutions such as cutting back on non-essential spending, working extra hours or taking on a part time job, or even turning to family members to borrow the money.
In the midst of this rather gloomy research, however, lies a fantastic story that completely bucks the trend. Thanks to their extra Kleeneze bonus cheque, Andy and Danielle Nicoll were able to take their very first family holiday earlier this month, jetting off with their daughter Charlotte to Egypt.
"Like most people, you feel like you need a holiday when you work hard all year round," said Andy. "You can't always rely on the English summer to provide that for you! When we joined Kleeneze in September 2012, I was working 60 hours a week as a manager of a tyre and auto care store, while Danielle was caring for our 2 year-old-daughter. We desperately needed an extra £400 per month so we could afford to do more than just pay the bills. As for a holiday, we simply couldn't afford it.
"Most of our friends were in a similar position, especially once you have children: if they could afford a holiday it was on a budget and would normally require saving for a year or so, cutting back on non essentials or even worse, paying for a holiday on a credit card then fighting to pay it back over the next few years."
As the couple started to build their business, the goal of having their first family holiday was seeming more realistic and come March they had achieved a £1,500 bonus for holding Gold for 10 out of 13 Periods. The holiday was in sight!
"Our first major purchase from our Kleeneze extra income was a new boiler system. We had needed a replacement for years but just couldn't afford the outlay, but after 6 months of saving, we were able to buy a whole new energy efficient system, saving us around £80 per month!
"After that our next goal was the family holiday. We qualified for the £1,500 additional bonus on top of the regular £800-plus we earn with Kleeneze part-time every month. To us, this was our opportunity to go on our first family holiday and not on a budget!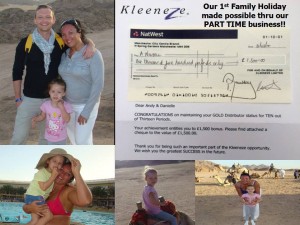 "We went all out and chose a 5-star, all-inclusive resort in Sharm el-Sheikh in Egypt. We had such an amazing time, and didn't have to save a penny for it – all thanks to our part time Kleeneze income."

Andy and Danielle's passports are soon to be aired again, as the pair have qualified for the Adventure of the Seas and will be once more going 5-star, but this time Kleeneze-style!
"Anybody can achieve these incentives," said Andy. "You don't need to work full time hours – just have a full time attitude. All we do is work our business s few hours every day and help others to do the same. Our future is bright with Kleeneze."

To join us and start making money TODAY – CLICK HERE!