My First Sponsoring Experience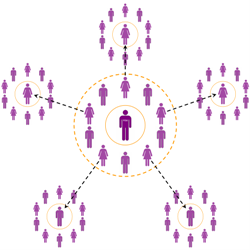 Kleeneze asked Distributors across their Network to let them know about their first experiences of team building. Some were success stories, others not so much! All have something in common – there was no pre-judging involved.
"We had just joined and it was our son's 3rd birthday, so I put all my catalogues in the downstairs toilet. At the party, one of the mums went to the toilet and came out with a catalogue asking if she could become a Distributor." ~ Lianne Martin
"My first sponsoring experience was very hard for me! I was very shy and still am really. I posted out 146 information packs before signing up my first Distributor into the business! Just over 2 years later, I had 3 frontline Gold Distributor legs in my business. I sure am glad I didn't quit when 145 said no!" ~ Sue Marshall
"I had just put the Opportunity video in the machine and was sitting down to watch it when my brother turned up. I made him coffee and said 'I've just got to watch this first – it's only 15 minutes.' We sat down together and watched it. As soon as it finished, he asked where he could sign up!" ~ Debbie Gee
"The first person to join my team was a young lady who was my very first customer on my very first street. When I delivered her order, I asked if she knew anyone who may be interested in earning extra money. She said: 'Yes, me!' It's so simple sometimes, I wonder why others don't pass on this fantastic opportunity." ~ Peter Crossen
"I accidentally called a customer that I had been talking to an hour or so before about her order. She called me back and said, 'I thought you were calling me because you had some work for me.' I responded with: 'Oh, are you looking for work then?' It couldn't have been easier. I think that accidental call was meant to be." ~ Janet Wilkinson
"My first team member was one of my closest friends who had come along to support me receiving recognition at the local BOM. Moral of the story – get along to your local event and fill your car with friends and family! Use other people's knowledge and excitement to grow your own!" ~ Chrissy Wright
"My first Distributor was a friend of my mum. We were all out for lunch and I was telling her about starting up and she kept asking more questions and at the end announced that she wanted to do it. At the time I had no idea what I was doing and was amazed that it had happened! She went on to do 10% quite quickly." ~ Heather De La Croix
"Our first team member was my son's girlfriend followed by my sister. Both joined without me directly approaching them. They were excited because I was excited and wanted to join. My first non-warm-market team member came from an Internet lead and was my 76th call! Thank goodness I know what I'm doing now and sponsor faster than 1 in every 75!" ~ Alison Taylor
"Mine was warm market. I went to their house to show them the opportunity and was so nervous I was back in my car within 10 minutes! I thought I had scared her off and would never see her again, but, to my surprise, she joined. I was shaking I was that nervous. It just goes to show that you can't say the wrong thing to the right person." ~ Amy Bennett
"My first sponsoring story was a 72-year-old customer who had recently lost his wife. He started Kleeneze and one year later thanked me for turning his life around, because of all the new-found friends he now has." ~ Kevin Davies
To join us and start making money TODAY – CLICK HERE!