Qualifying For The Kleeneze Adventure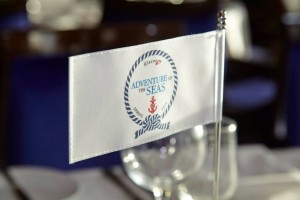 Earlier this month, more than 60 Kleeneze Distributors took to the seas on the Royal Caribbean Adventure of the Seas Cruise, Kleeneze-style, through Belgium and France.
With the Autumn Destination and Montego Bay, Jamaica still to qualify for, Kleeneze's Team Talk tracked down some of the Distributors before they boarded to find out their top tips.
"We simply put in that extra effort that we needed to in order to qualify. When Kelly and I saw the video at the Christmas Showcase, we believed that we could do that! In the second period of qualification we hit Gold, which I believe was what solidified our qualification, and then we just focused on sponsoring more new people, and helped them to get going! Anybody can qualify, you just have to believe and take action!" Jon and Kelly Gulliver, Gold Distributors

"Concentrate on helping others to achieve their dreams and goals, communicate, plan and set goals with your team on a daily basis and share your experiences with EVERYONE you come across." Matt Gough and Hailey Watson, Gold Distributors
"My one tip would be to listen and learn from your sponsor – there is a reason they are successful!" Karen and Pete Hall, Gold Distributors
"Set a goal, a completion date and go for it. Tell everyone what you are doing so everyone knows your goals and when you want to achieve them by." Kevin Walker and Matthew Taylor, Gold Distributors
"We focused on the growth of each individual who wanted to move up the plan and make more money. We worked with those who were actually doing and spent time with them, supporting, encouraging and teaching. By doing this with a few good people who were willing, we broke a new Gold leg, grew by nearly 20% on last year and came third in the Premier/SEDs. Growth was our goal anyway, but achieving the cruise was the icing on the cake." Gail and Stuart McKibbin, Senior Executive Distributors
"My tip is: to know and understand the qualification criteria. Keep regular track of your progress and always remember, as you support and help new distributors to achieve their goals you are potentially on your way to the next destination." Mary Mullins, Gold Distributor
"You can't expect someone to duplicate something you have not done or are not already doing yourself to a high standard. Always retail the right amount, get the right amount of leads, follow your groups system 100% of the time and most of all, get to know your people and become the most reliable friend they can have in this business. Friends will do anything for you and will make the journey a much more enjoyable one!" Craig Skellern, Gold Distributor

"My one top tip for qualifying for Destinations is to put total focus on the core things that build the business. Have a plan to increase sponsoring over 90 days; aim to introduce 15 to 20 people quickly." Neil and Karen Young, Gold Senior Executives
"Make sure your team members are clear on the qualification criteria. If unsure, it is important to speak to one of your successful upline/sponsor for clarity and make sure that they track their business daily, weekly and monthly, as every successful person is off track at some point more than on track.
Also remember not everyone who is in your team wants to go on these trips, so don't try pushing everyone to do something they don't want to do. Just look for those who want the trips and work with the workers. The rewards are awesome and it's worth the hard work and effort that has to be put in to achieve them, so that you can spend quality time with the leaders within the Kleeneze Network and learn from the best." Dave Birtwistle and Angie Tonkin, Silver Executive Distributors
"Work hard with one person at a time; it's easier to keep someone in by good support than it is to recruit many who then don't get enough support so they quit after doing virtually nothing. If you support one person properly and then they quit at least they and you will know you did your best to help them help themselves." Paul and Alison Taylor, Senior Distributors
"Make the decision and be consistent and persistent until you reach your goal." John and Ann Mayren, Gold Distributors
"Stick to the plan you have made with your Upline. Do not vary from the course." Jerry and Lesley Eshelman, Gold Distributors
"The first thing I did was to get my goal board filled with pictures of the ship and Destination. Visualisation is so important so that when you have a bad day or something doesn't go to plan, your goals suddenly become more important and you get refocused and move on. I also told everyone I was going for this trip including my sponsor and my team.
The reason I qualified for the Adventure of the Seas was simple: I made a decision to do whatever it took. Once you make a 'TRUE' decision and you COMMIT to take action and do what is required, everything else seems to fall into place and the rest of the world gets out of your way to let it happen." Timothy Murphy, Bronze Executive Distributor
To join us and start making money TODAY – CLICK HERE!