Kleeneze Period 8 2014 Events Calendar
Here is the Kleeneze Events Diary for Period 8 2014. If you are unable to zoom in enough to view in detail, please see today's EWB email which you should have received by now – if you didn't receive your email please contact us without delay, so you don't miss out on important information concerning your Kleeneze Business.
Some events require prior booking, so please check with ourselves if you wish to attend.
Please see below the image for more events not listed . . .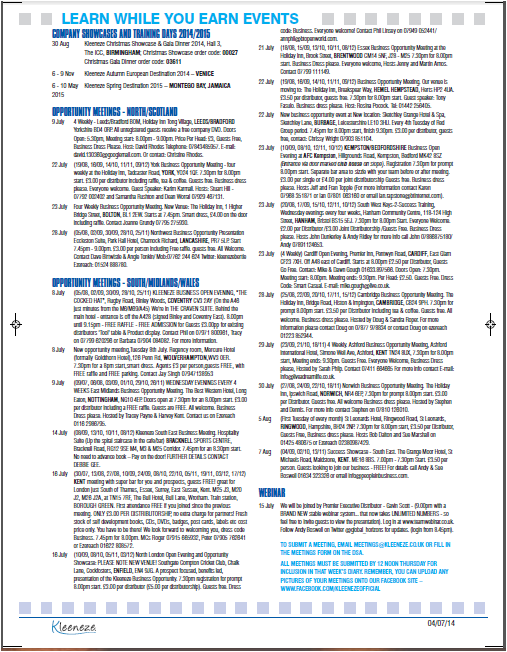 The following events are for Premier Group Members only of which Katrina & Ian's 'system2success' Team are also a part. For more information please contact Katrina
---
Monday 7th July 7.45pm – 9.30pm
Premier Group Lymm Meeting – Lymm Hotel, Lymm, Cheshire, WA13 9AQ
---
Monday 14th July 9pm – 9.45pm
Premier Group Online Webinar – Guest Speaker & Web Address (TBA)
---
Saturday 26th July 9.30am – 1.30pm
Premier Group Workshop – St Matthew's Church Hall, Stretford, M32 9AJ
---
Other events open to all but not listed include . . .
---
Sunday 21st September 12noon – 5pm
The Big One – Nottingham (Venue TBA)
---
Sunday 12th October 11am – 5pm
G4G Event – Pavilions of Harrogate, North Yorkshire, HG2 8NZ
(please book well in advance – sells out very quickly)
---
To join us and start making money TODAY – CLICK HERE!