JOIN KLEENEZE HERE!01326 562 474
Be a Part of Kleeneze's Most Successful Group
Join us today and be a part of our nation-wide professional, but family oriented team of Kleeneze Distributors, where you can expect nothing but first class support and guidance to help you achieve the level of success you truly deserve!
Let us help you create your lifestyle without limits
There could be a number of reasons that you visited this website. However, the probability is that you're looking for something more for your life. In the current climate, chances are that even if you're lucky enough to be making a living, the quality of how you are living is still not what you dreamed it would be.
Every day people are waking up to the realisation that they want to gain control of their lives, their time, their dreams and their future. The illusion that if you study hard, get a good degree and work hard, the rewards will be yours have been well and truly laid to rest and instead replaced with the reality of long hours, missing time with family and a retirement that's shifting ever further away.
It can feel like a never-ending rut. Living purely to work, stuck in the benefits trap, unable to go back to work due to childcare costs, surviving from one month's pay to the next, or not earning enough to save for your future or pension. The good news is that genuine wealth is available to you. Not only in the financial sense either. Wealth of time, wealth of freedom and wealth of security.
This Kleeneze website, will introduce you to a concept that could help you create your lifestyle without limits. This is not a magic pill or a get-rich-quick scheme. There is no mystery surrounding it. The truth is, if you want the lifestyle of your dreams, you need to create it. You can take control of your life and your future, but firstly you need to take control of your income source and to that end you need your own business. Your own business where you call the shots, dictate the hours that you work and the income that you earn.
Here is an opportunity for you to take and change your life. Take this Kleeneze Opportunity, as thousands before you have, and change your lifestyle forever. Get back in touch with dreams you thought would never be fulfilled and follow a simple proven system in which effort always equals reward.
For over 9 decades, Kleeneze has helped to create lifestyles without limits and we are not slowing down now. We are looking for the right people to join us, so why not have a look and see how Kleeneze could change your life.
Kleeneze operates via a home shopping distribution channel - the fastest growing worldwide retail trend - and with 32 million homes in the UK and the Republic of Ireland, the opportunities for Kleeneze Distributors are endless. The catalogues feature over 1,500 products ranging from everyday essentials to innovations that you never knew you needed. Put in a few hours a week and you could earn a life changing income. Not bad for a spot of catalogue delivery and helping and supporting others to do the same!
Do you have what it takes?
In Kleeneze, creating the lifestyle you desire doesn't take formal qualifications. It doesn't take huge financial investment. It takes a dream, determination and a willingness to learn.
Usually, when you start your own business, you can look forward to at least five to ten years without taking out any money for yourself. After all, there are rents to be paid, staff to employ and overheads to consider.
With Kleeneze, you can start earning immediately and as you grow your Kleeneze Business, your income will grow with you. In fact, you can operate it on a part-time basis for as long as you need, so if you want to transition out of your full-time job, you can.
"After joining Kleeneze, our income soon started to exceed the £600 per month that we needed to pay the bills and continued to rise. David has now completely quit his job, so he can be there to see our two wonderful children grow up, while still making around £3,000 per month.
At a time when most people are spending on their credit card or struggling to pay the mortgage, we have paid off our £16,000 visa bill and are looking to move into a new, bigger house." - Tracey and David Sheehan
Secure your future!
The problem with money is that you work hard to earn it, and then spend it, only to have to work hard all over again to create more. It doesn't have to be this way!
Wouldn't you like to feel secure about your financial income? Know that you'll be able to maintain your current standard of living should anything happen? And feel excited about your retirement?
Network Marketing is a business model that creates passive income, so even when you're not actively working, you can still reap the rewards of a strong business.
Ex-dry cleaner Chris gave up the the rat race and now earns £250,000 a year!
From earning £3.25 an hour steam pressing trousers in a dry cleaner's to earning £20,000 a month with Kleeneze, Chris Mason-Paull has turned his life around for the better after taking an off-the-cuff decision.
When Chris first joined network marketing company Kleeneze, he was a little cynical about the offering but his negative thoughts were quickly turned around and he now earns up to £250,000 a year.
Chris and his wife Wendy soon set about growing their Kleeneze Business. Their success is down to hard work and building their own network of around 4,000 Kleeneze Distributors, which has transformed their lives beyond recognition.
The couple now live mortgage-free in Bristol, and also own two holiday homes in Spain plus a string of rental properties. They are now in a position that they earn commission from orders even when they don't work.
"We swapped homes with a couple from Australia for six weeks, and I left £2,000 in my current account at home in case of emergencies. When we arrived back at Heathrow, I went to the cashpoint to get some money out for a taxi. While we'd been away the balance had grown to £38,000 while I'd been laying on a beach. It was an amazing feeling and just goes to show that hard work really can pay off."
IT WORKS whether you have small dreams or big ambitions
People join Kleeneze for lots of different reasons: to make a little extra cash to help the household finances; to be able to work flexible hours to fit around a busy family life; to satisfy career ambitions and financial goals. Speak to any Kleeneze Distributor and you'll find they all have a unique story to tell, but the one thing they'll all tell you is . . . KLEENEZE WORKS.
Throughout this website and in the video below, you'll meet real people for whom Kleeneze has worked and is still working.
For Bob, KLEENEZE WORKS to provide the financial security he couldn't achieve in his job as a teacher.
For Grace, KLEENEZE WORKS so that she can earn a good income and still be there to collect her children from school.
For Jackie, KLEENEZE WORKS to give her a lifestyle she had only dreamed of.
Facing financial ruin in their 50s after both being made redundant in the same week, Jackie and her husband Peter transformed their lives by becoming part of the Kleeneze Network Marketing Opportunity.
Peter and Jackie White were originally sponsored into Kleeneze by a friend when Jackie was told she was going to lose her job.
Peter and Jackie now head up a highly successful Kleeneze team and have gone from a combined annual income of £45,000 working for other people to over £150,000 and being their own boss.
"I was dubious at first and Peter and I didn't even think it would cover our mortgage payments," admits Jackie. "But it soon became clear that there was more to Kleeneze than meets the eye."
In the same week Jackie finished her job Peter, then working as a coach driver, was made redundant. "We were in our 50s and we knew how difficult it would be for both of us to find new jobs," said Jackie. "So we took the decision to both throw ourselves into our Kleeneze Business - we haven't regretted it for a minute."
"My state pension now would be just £67 a week, so we were extremely fortunate to have discovered the Kleeneze Opportunity! We've swapped the semi we lived in for 18 years for a large family home, and have also bought a dream property with nine acres of land at the top of a Spanish mountain."
She added: "We wanted to find a business which we could do together from home, but we didn't want to take out a bank loan to do so. With Kleeneze we found we could earn a great living without a big investment - essentially it was a low cost franchise."
It doesn't matter why you've visited our website - you may be looking for 'top-up' money to help buy life's necessities or a life-changing income to give you access to life's luxuries - the important thing is that you're just a few clicks away from understanding the brilliant opportunity Kleeneze offers you, and how you can make it work for you!
IT WORKS when your circumstances alter or you just need a change
Most of us have been affected in some way by the ever-changing economic climate. As the cost of living continues to increase, wages are frozen and the threat of redundancy is always a possibility; the future is never certain. People work longer hours and the precious luxury of 'family time' is being sacrificed just to make ends meet.
There are two things you can do when money is tight or you want to improve your financial circumstances: cut back or make more money. If you've already cut back as much as you can or your current job gives you no scope to earn more, Kleeneze can provide the solution.
You needn't worry that joining Kleeneze means you have to take any financial risks. You can make Kleeneze work on a part-time or full-time basis (whatever suits you best). Many distributors have started their Kleeneze business alongside their main job, only to go on to do it full-time when they see how well it works for them!
Kleeneze allows you to earn a good income in a way that puts you in control. You are the boss, you define your working hours, and how much you earn is up to you.
Redundancy may be the end of one chapter in your life but it can also be the start of an exciting and rewarding journey with Kleeneze.
IT WORKS whether you need a little help right now or you have big plans for the future
Kleeneze provides the opportunity for you to run your own business from home, with very little money required to get started and the way it works means you can start to earn an income straight away.
There are three different ways to earn money with Kleeneze, Catalogue, Party or Online - or any combination of all three. You choose the opportunity that best suits you.
You are not limited to just one and can even choose to do all three!
Neither route requires you to have any previous experience or training to achieve success as you will receive guidance and support from a network of people who are already making Kleeneze work for them.
So you can be reassured that, although you are working for yourself, you are not on your own.
Avoid the 'employment trap'
In traditional employment, a person's income over their lifetime is restricted by various factors, with the resulting income pattern being the norm:
An average salary of £10k per annum at age 20
If successful, a salary of £30k per annum at age 35
Annual wage rises in line with inflation after age 35
A retirement income of £10k per annum - about the same as they earned age 20!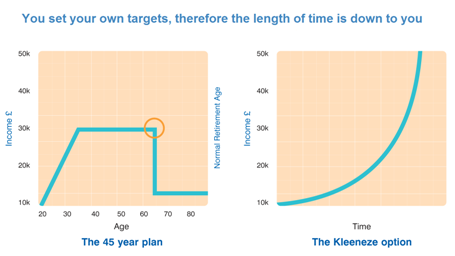 With Kleeneze the potential for earning money is limited only by you
YOU set your own targets, therefore the length of time it takes you to reach them is down to YOU.
MORE AND MORE PEOPLE ARE CHOOSING TO WORK FROM HOME
The Federation of Small Businesses has recently reported that the trend for home working or 'domestic entrepreneurship' has grown rapidly due to many factors including 'the search for a better work-life balance, rising property costs and the availability of new technologies'.